The guitar is a magical instrument that has the power to captivate hearts and souls with its melodic charm. Whether you're just starting your guitar journey or looking to enhance your skills, I'm here to share some valuable techniques that will help you become a master of this beautiful instrument.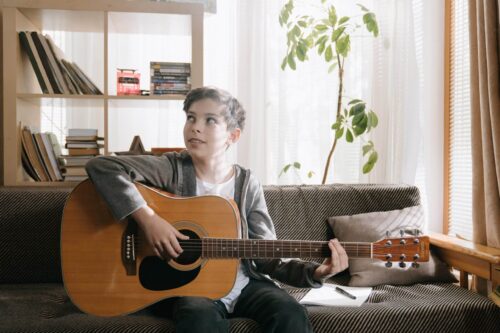 10 Tips To Improve Your Guitar Skills
1. Proper Posture
Sit or stand with a relaxed yet upright posture, allowing your arms to freely move across the guitar. This ensures optimal control and minimizes strain during long practice sessions.
2. Finger Placement
Train your fingers to find their rightful positions on the fretboard. Start with simple chords and scales, gradually building muscle memory. Don't rush; accuracy is key.
3. Strumming Techniques
Experiment with various strumming patterns to add rhythm and dynamics to your playing. Practice both upstrokes and downstrokes to develop a balanced and versatile strumming style.
4. Fingerpicking
Delve into the mesmerizing world of fingerpicking. Learn to pluck individual strings with precision, creating intricate melodies and harmonies. Start with basic patterns and gradually advance to more complex arrangements.
5. Rhythm and Timing
Mastering rhythm is crucial for any guitarist. Use a metronome or drum track to develop a strong sense of timing and stay in sync with other musicians.
6. Vibrato and Bending
Add soul and expressiveness to your playing by incorporating vibrato and bending techniques. These techniques infuse your notes with emotion and create a unique sound signature.
7. Ear Training
Train your ears to recognize melodies, chords, and progressions. Practice playing along with your favorite songs, transcribing them by ear. This will enhance your improvisation skills and expand your musical vocabulary.
8. Practice Consistently
Dedicate regular practice sessions to hone your skills. Set achievable goals and gradually increase the complexity of your practice routine. Remember, practice makes progress!
9. Seek Inspiration
Immerse yourself in the works of guitar legends and draw inspiration from their playing styles. Explore various genres to expand your musical horizons and find your own unique voice.
10. Embrace the Journey
Learning the guitar is a lifelong adventure filled with both challenges and rewards. Embrace the joy of making music and allow your passion to drive you forward. Enjoy the process and savor every moment of your musical journey.
Conclusion:
Remember, mastering the guitar requires patience, dedication, and a genuine love for the instrument. With these techniques and a burning desire to create beautiful music, you're on the path to becoming an exceptional guitarist. Keep strumming, and let the guitar be your voice in the world of instrumental magic!
Peter Abbonizio is a passionate and skilled musician with a lifelong dedication to instrumental music. As a guitarist and pianist, he shares his expertise and love for music to inspire aspiring musicians on their musical journey.