Music has a unique power to convey emotions, even without lyrics. As instrumental musicians, we have the incredible opportunity to tap into this emotional language and express ourselves in profound ways. In this blog post, we will explore how to harness the emotional power of instrumental music and communicate our feelings through melodies.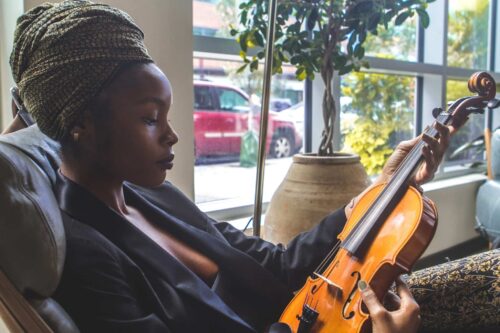 5 Tips For Expressive Melodies
Embrace the Power of Dynamics
Just like in spoken language, dynamics in music play a crucial role in expressing emotions. Experiment with variations in volume, from soft and delicate passages to bold and powerful crescendos. These dynamic contrasts can evoke a range of emotions, from tenderness to excitement.
Utilize Phrasing and Articulation
Pay attention to the way you phrase your melodies and the articulation you apply to each note. Slur legato passages for a smooth and connected feel, or use staccato to create crisp and rhythmic accents. These techniques can enhance the expressiveness of your music and convey different emotions with precision.
Explore Melodic Contours
The shape and contour of a melody can greatly influence its emotional impact. Ascending melodies often evoke feelings of hope, triumph, or uplifting joy, while descending melodies can create a sense of introspection, melancholy, or tranquility. Experiment with different melodic contours to convey the specific emotions you wish to express.
Harness the Power of Harmony
Harmonies add depth and richness to instrumental music, allowing you to create complex emotional landscapes. Experiment with chord progressions and explore how different harmonic choices can alter the mood of your composition. Dissonant chords can evoke tension or unease, while consonant chords can create a sense of resolution and peace.
Use Expressive Techniques
Explore various expressive techniques such as vibrato, slides, bends, and trills to infuse your melodies with nuance and emotion. These techniques can add a personal touch to your playing and create a deeper connection with your audience.
Conclusion
Remember, music is a language of the heart. Embrace your instrument as a tool for emotional expression, and let your melodies speak volumes. By honing your skills and exploring the vast world of instrumental music, you have the power to touch hearts, inspire, and communicate emotions without uttering a single word.
Let the language of music flow through you and allow your melodies to convey the deepest emotions within your soul. The world is waiting to hear your unique musical voice. Start exploring, experimenting, and embracing the transformative power of instrumental music today!